Barcelona star İlkay Gündoğan said Thursday that apart from Germany, he whole-heartedly supports Türkiye in the European Championship 2024.
Gündoğan told Anadolu that he is optimistic about the upcoming EURO 2024 and expressed hope that Germany will not be drawn into the same group as Türkiye.
"Perhaps reaching the semifinals or finals would be a thrilling accomplishment for us," said the German midfielder of Turkish descent.
Gündoğan said: "If Germany or Türkiye makes it to the final, it would make me happy. If both of them reach the final, it would make me happy too."
"It will be a special match for me. Perhaps it will feel a bit strange to compete against Turkey for the first time," he said about the prospects of playing against Türkiye.
'A strong bond with Türkiye'
"Naturally, I have a strong bond with Türkiye and always will. I make an effort to visit at least once every year. I thoroughly enjoy spending my holidays in Türkiye," the 33-year-old stated.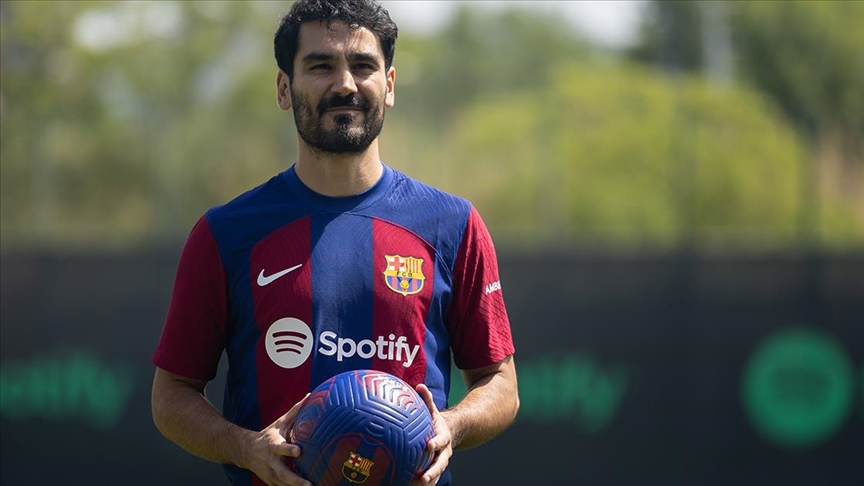 Barcelona adventure
Gündoğan emphasized he chose to play in Barcelona for Xavi because their initial meetings went exceptionally well.
"We had two phone conversations, during which I found our characters to be quite similar. Our perspectives on football align closely, given our shared background as midfielders. The numerous similarities make us a highly compatible duo," he said.
He stressed the experiences of former manager Pep Guardiola and Xavi are very different but Guardiola has experience for many years.
"First of all, their experiences are notably distinct. Pep boasts extensive years of experience, while Xavi is currently in his fifth year, only embarking on his second season in Europe. Despite these differences in experience, their perspectives on football remarkably align."
He said the national teams as his favorite are France and England. "There are two to three world-class players in every position."
Gündoğan joined Barcelona from Manchester City in June on a deal until June 30, 2025.
He won the 2023 UEFA Champions League trophy, five English Premier League titles and two FA Cup trophies during his time with the Sky Blues.